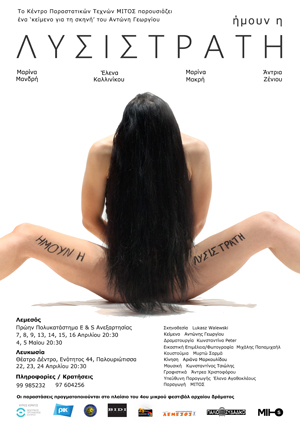 Centre of Performing Arts MITOS presents the new production " Ήμουν η Λυσιστράτη» (Ι was Lysistrati), 'a written text for stage' of Antonis Georgiou, with the director Lukasz Walewski, for 12 performances in Limassol and Nicosia.
The performances are included in the 4th mikro ancient drama festival, which returns this year under the theme "Why ancient drama", with organizers MITOS Centre of Performing Arts and Rialto Theatre.
"Ήμουν η Λυσιστράτη» is supported by THYMELI program, BIDI store, the Limassol Municipality and the Old Vinegar Factory.
Sponsors: RIK, Limassol newspaper and Channel 6.
Credits:
Director: Lukasz Walewski
Author: Antonis Georgiou
Dramaturgy / Assistant Director: Constantina Peter
Music: Konstantinos Tsiolis
Movement: Ariana Marcoulides
Scenography/ Photos: Michalis Papamihael
Costumes: Myrto Sarma
Cast: Marina Mandri, Andria Zeniou Elena Kallinikou and Marina Makris
Graphics: Andrea Christophorou
Responsible production: Elena Agathokleous
Production: MITOS Centre of Performing Arts
Performances:
April 7, 2016 premiere
8, 9, 13, 14, April 15, 16 and 4, May 5
Former department store E & S Anexartisias Limassol, 1st floor (former men department ).
22, 23 and April 24
Theatre Dentro, Nicosia
Information:
Time: 20:30
Entrance: 10 € and 8 € (reduced)
Information / reservations: 97604256 and 99985232
www.mitos.org.cy