The animals that ate people (2008-2009)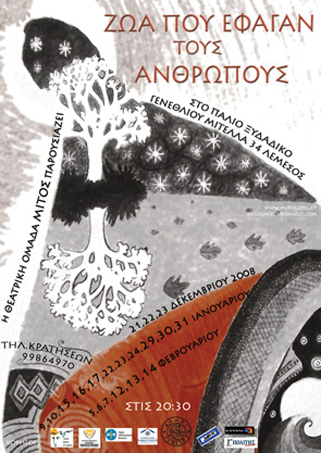 Fast, just like that
Tales of up and down
And the question remains unanswered
In search of a lost tale, of an active storyteller, setting questions, looking for answers, the contributing elements got lost in the animal world.
This performance is a combination of tales, stories, legends, information, images and sounds of Cyprus, just as they were revealed during the collection of the material and the rehearsals. Conducted with an artistic environment composed by living sounds and music.

The preparation of the material for this performance was originally based on the stories as told by grandmothers in recordings and on supportive special bibliography such as: Chambis Tsangaris The Kallikantzaroi and their Play, Pavlos Ksioutas Cypriot Folklore of Animals, G. A. Megas Greek Celebrations. And Customs of Folklore Worship, Nearchos Klerides Cypriot Fairytales, B. Apostolopoulos From the popular calendar. The period of the Twelve-day, M. G. Meraklis Popular Artistic Speech, among others.
Creative team
Director: Lukas Walewski
Gathering of material: Elena Agathokleous
Technical support: Alexander Jotovich
Production assistant: Christina Petridou
Performing: Alexander Jotovich, Dimitris Spyrou, Elena Agathokleous, Lukas Walewski
Performances
- Open rehearsals for the audience with discussion and performances, The Old Vinegar Factory, December 2008 – February 2009.